Sustainable Business Simulation
Become a leader in Sustainable Business practices with this online focussed short course business simulation. Learn the principles and applications of Business Sustainability Management with this ideal simulation for Apprentices. It has been used in this context for large cohorts at one of the biggest insurance companies in the world.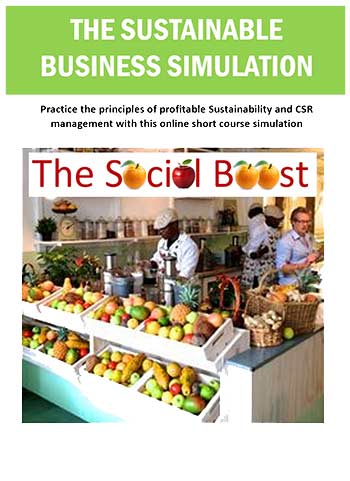 The Sustainable Business Simulation gives Apprentices, working in teams, the opportunity to "have a go" at running a start-up business – The Social Boost – where the requirement is to produce business profitability while delivering on their Corporate Social Responsibility agenda, based on the sustainable principles of People, Planet and Profit.
Running a small, simulated business – The Social Boost
Working as a team
Forecasting and planning
Making commercial decisions & trying to make a profit
Considering the sustainable, social responsibilities of businesses
Solving problems
Competing with other teams to deliver the best business performance
Ethical & sustainable thinking – the ability to assess if your enterprise is acting responsibly towards your shareholders, other people and the planet.
Self-awareness and self-efficacy – the ability to identify your individual and group strengths and weaknesses and to manage tasks accordingly.
Motivation & perseverance – the ability to be patient and to keep trying to achieve your long-term individual or group aims.
Mobilizing resources – the ability to gather and manage the resources you need in order to succeed in a task.
Financial and economic literacy – the ability to observe economic and competitive action and adapt business decisions accordingly and the ability to evaluate the financial impact of business decisions.
Taking the initiative – the ability to take up challenges, achieve goals and carry out planned tasks.
Planning & Management – the ability to define priorities, make action plans and adapt to unforeseen changes.
Coping with ambiguity, uncertainty & risk – the ability to handle fast-moving situations promptly.
Working with others – the ability to work with others and co-operate to develop ideas and turn them into action.
Learning through experience – the ability to learn with others and reflect on both success and failure.
Flexible delivery
The Sustainable Business Simulation can be run over a period of days or weeks virtually so that Apprentices can participate from any geographical location or it can be run as a one-day live event as part of an Apprentice Induction or Development programme.
Support
When run virtually, the Learning Dynamics/Simulation Space team will:
provide an email Helpdesk for Apprentices to answer questions about the simulation.
provide feedback to individual teams in order to improve performance.
Train your HRD team to run the simulation live
All materials are available via The Simulation Space platform.
Delivered on The Simulation Space Platform