Project Management Experience Simulation
Participants working in competitive teams are tasked by the CEO of a global bank to manage a complex and substantial project. This online business simulation is as close as students can get to the real thing in terms of having the responsibility of opening an office for a global bank looking to position itself in an expanding market.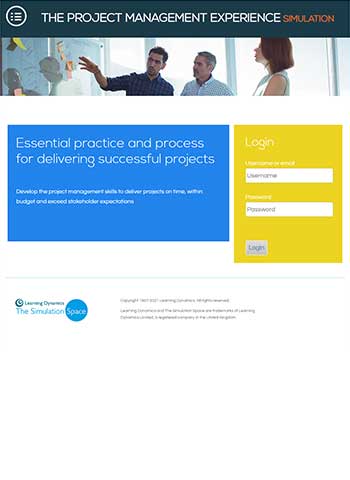 University of Dundee
'I have learnt and put into practise lots of new skills this week.  I feel much more confident about planning and executing a project of my own and feel equipped with the correct skills to do so.'
'In this current job market, having project management skills clearly puts you at an advantage.'
Nick Kolakowski, DICE article: Project Management Most In-Demand Tech Skill Among Employers.
'Project management skills help you manage tasks from start to finish. You make sure everything stays on time and also adjust the timeline when things aren't going as planned. Employers want people who can not only see a task through, but who can visualize what needs to happen on a project from start to finish. This transferrable skill helps ensure that deadlines are met and projects are completed efficiently and effectively.'
Rachel Pelta, 15 Transferable Skills That Companies Want: Examples and Definitions, Flexjobs.
Delivered on The Simulation Space Platform