Employability Experience Simulation
Universities Business Challenge              
Inter-university business competition designed to develop employability, inspire enterprise
The Universities Business Challenge is the world's leading online simulation-based inter-university competition designed to develop Undergraduate and Postgraduate employability and enterprise skills. Trusted and supported by leading universities and graduate employers over 35,000 students have benefitted from taking part since 1998.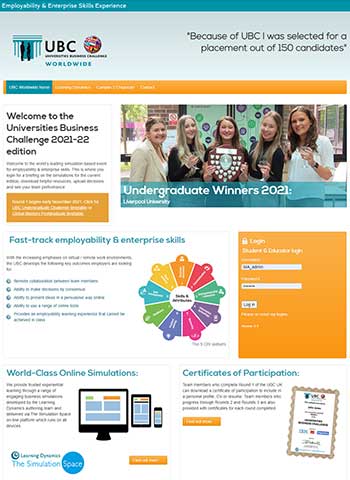 With the new emphasis on a 'hybrid' workplace, the UBC develops the key outcomes employers are looking for: remote collaboration between team members, the ability to make decisions by consensus and to present ideas in a persuasive way online, the ability to use a range of online tools.
We provide trusted experiential learning through a range of engaging business simulations developed by the Learning Dynamics authoring team and delivered and facilitated via The Simulation Space online platform.
The UBC UK is an annual inter-university competition open to all Undergraduate and Postgraduate students from any faculty, run in two separate competitions for teams of up to 5 students. The Undergraduate Challenge is run over 3 rounds starting in November. The Postgraduate Global Masters competition is run over 2 rounds starting in January.
Teams will be running a series of simulated companies with carefully designed energising content and exercises not only to make maximum profits, build market share and satisfy customers but aligned to UN sustainable development goals: 12. Responsible Consumption and Production; 14. Life below water and 9. Industry Innovation & Infrastructure.
Semi-Finals and Grand Finals: a rich experience with simulations, team work on creative exercises, team video presentations, plus inspiring guest speakers and practical tools such as strengths profiling these events are facilitated by the LD team supported by expert speakers.
The UBC Undergraduate and Postgraduate Challenges give your students a unique employability experience: 'My UBC experience gave me the firepower to land an internship with a leading firm of accountants' – University of Liverpool team member
Team Members who compete in the UBC can download a personalised certificate of participation to include in their personal academic profile, CV or resume. Personalised certificates are awarded for each round completed.
Entries for both challenges are open from April each year so make sure your university is entered.
Student Experience Co-ordinator, Lord Ashcroft International Business School, Anglia Ruskin University
'The UBC is a wonderful and highly beneficial way students can develop their employability and enterprise skills.
'Students have the opportunity to showcase their leadership and analytical skills and problem-solving by working with peers to make operational and strategic decisions in a simulated workplace environment.
'Engaging in the UBC really enables students to stand out to employers'.
Delivered on The Simulation Space Platform